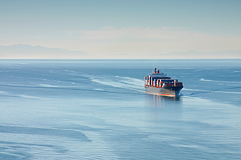 When people think about an IC-DISC, they thing about the exported products that will qualify. Delivering their high quality, American made products outside the US.
The picture of a large ocean-bound freight ship heading out to sea comes to mind as it slowly vanishes in the waning sunset.
Often forgotten are the services revenues that can also receive IC-DISC treatment whether they are ancillary to the products sold or specifically allowed in the IC-DISC regulations.
Let's take a look:
Related and subsidiary services furnished by an IC-DISC
Qualified export receipts of an IC-DISC include gross receipts from services furnished either by the IC-DISC or related supplier if the services are related or subsidiary to the sale or lease of export property (Internal Revenue Code Regulation 1.993-1(d)).
The regulations provide some leeway to the types of services but note that the services rendered should be
"…customarily and usually furnished with the type of transaction in the trade or business…" (IRC Reg 1.993-1(d)(3)(i)).
Examples of related and subsidiary services provided in the regulations include warranty, maintenance, repair and installation services.
Specifically allowed services for architectural and engineering
In addition to related and subsidiary services are engineering and architectural services allowed on construction projects (or proposed projects) outside the US.
Engineering Services
Included in the definition of engineering services are feasibility studies as well as,
"…any professional services requiring engineering education, training and experience and the application of specialised knowledge of the mathematical, physical or engineering sciences…"
The regulations also provide examples of types of engineering services that include consultation, investigation, evaluation, planning, design, or responsible supervision of construction (IRC Reg 1.993-1(h)(5)).
Architectural Services
Professional services that are defined as "architectural" and will qualify for IC-DISC treatment include
"…any professional services such as consultation, planning, aesthetic, and structural design, drawings and specifications, or responsible supervision of construction (for the purpose of assuring compliance with the plans, specifications and design) or erection."(IRC Reg 1.993-1(h)(6)).
Who must furnish the services?
Similar to the treatment of export sales, the services performed may be provided by a related supplier, by contract either directly with the IC-DISC or related supplier or directly by the IC-DISC.
Defining Construction
In order for a project to be considered "construction" and make the related services eligible for IC-DISC treatment, the project must include the erection, expansion or repair of a new or existing building or other physical structure. Examples include roads, dams, canals, bridges, tunnels, railroads, tracks and pipelines.
What say you, my friends?
What services have you not accounted for in calculating your IC-DISC Commissions?
Do you customarily charge separately for maintenance or repair services for your export property?
Do you have engineers that provide support services for an export property?
Other Noteworthy Articles
IC DISC: Calculating IC DISC Commission Income
IC-DISC: What is Qualified Export Property?
A Change in the Qualified Dividends Rate could hurt exports
Free Resources
Click Here to Subscribe to Tax Incentives! Our Monthly Newsletter
IC-DISC – Frequently Asked Questions
Randy Eickhoff, CPA is President of Acena Consulting. With more than 20 years of tax and consulting experience, Randy focused on helping companies successfully document and secure tax incentives throughout the US. He has been a long-time speaker nationally as well as conducted numerous training sessions on R&D tax credits and other US tax incentives.