IC DISC: The Last Remaining Export Incentive
An IC DISC (Interest Charged - Domestic International Sales Corporation) is a US corporation that is set up for privately-held US companies that export products or services. Exports can include destinations such as Canada and Mexico and provide significant tax benefits to the owners of the exporting company.
What Qualifies?
Qualifying products are those that are manufactured, produced, grown or extracted in the US that are then exported.
Not more than 50% of the fair market value of the product is attributable to articles imported into the United States.
What Doesn't Qualify?
Property leased or rented by a DISC for use by any member of a controlled group that includes the DISC.
Patents, inventions models, designs, formulas, or processes, whether or not patented, copyrights (other than films, tapes, records or similar reproductions, for commercial or home use), goodwill, trademarks, trade brands, franchises or other like property.
Products of a character with respect to which a deduction for depletion is allowable (including oil, gas, coal, or uranium products).
Products the export of which is prohibited or curtailed under section 7(a) of the Export Administration Act of 1979 relating to the protection of the domestic economy.
Unprocessed timber that is a softwood.
What's the Benefit?
Sales commissions are paid to the IC DISC by the related supplier. The supplier company receives a current year ordinary deduction for the sales commissions generating a 35% tax benefit.
The IC DISC pays a qualified dividend to its shareholders that are taxed at the qualified dividend rate of 15%.
The net result is a permanent tax saving of 20%.
How do you calculate the sales commission paid to the IC DISC?
The sales commission paid can be calculated some ways. The amount is the greater of:
4% Gross Revenue Method
50% Full-Cost Combined Taxable Income
50% Marginal-Cost Combined Taxable Income
The Internal Revenue Code and Treasury Regulations allow taxpayers to analyze each transaction based upon costs allocated to it to determine the best method. This approach, termed, transaction-by-transaction or T by T can increase the overall benefit to the taxpayer substantially.
How do you Optimize the benefit to the Taxpayer?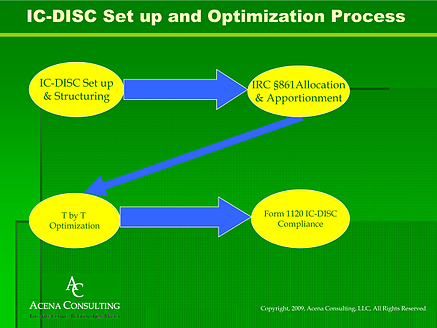 Need more info?