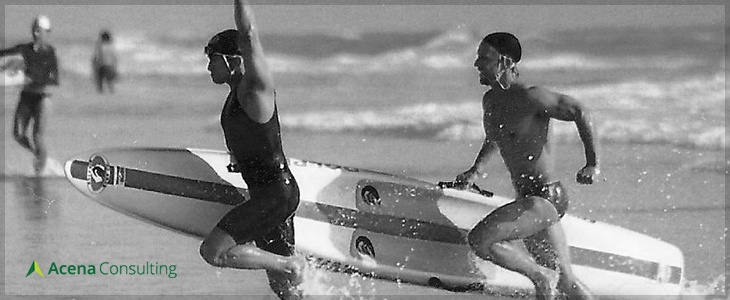 At Acena Consulting, you know our people have a strange interest and love for taxes, the tax law and how we can leverage both to make our client's businesses grow and succeed. However, take that image of me sitting at home with my head stuck in a tax law textbook out of your head, because we do have interests outside of all this tax stuff. Now that tax season is behind us, I'd love to share with you a bit about who I am and what I do outside of the great work I get to be a part of at Acena Consulting.
Those who know me well know that one of my deep passions outside of my work is swimming. Even back at Monte Vista High School in Spring Valley, California I was known for my success in the water as a 4-year letterman in swimming. During my time in high school I decided I should use my talents as a lifeguard. I believed it would be a waste of my talent, training and experience to have a life-saving skill and not use it.
I began lifeguarding in Ocean Beach for the San Diego City Lifeguard Service in 1983. I was also a part of our Ocean Beach relay team for each of the five summers I worked as a lifeguard. For those of you that aren't familiar with the area, Ocean Beach is a small beach but can be very dangerous for beach goers not familiar with the ocean. As a result, Ocean Beach lifeguards would make an average of 500 rescues a month during the summer.
During my years as a lifeguard, I started competing in local, regional and national lifesaving competitions. Over the years, I won the Open Rescue Race (Chicago, IL nationals, 1991) and the Open Surf Swim (Cape May, NJ nationals, 2003). Most recently, I captured both the swim and run-swim-run title for my age group at the 2013 nationals held in Manhattan Beach, CA. I also managed a 15th place finish in the Open Swim (at age 48!)

I have also been fortunate enough to be part of two US national lifesaving teams. The first team competed in the World Championships in Shimoda, Japan in 1992 (Rescue '92) and the second in the 1996 World Championships in Durbin, South Africa (Rescue '96).

Swimming and lifesaving continue to be a very important part of my life today. This past February I was appointed as the new USLA National team manager. This role is responsible for selecting, training and taking a team of US lifeguards to the World Championships in September, 2016 in the Netherlands. I will be working alongside four outstanding coaches to handle the selection, training, fundraising and travel to the 2016 World Championships.

Our teams have also been invited to compete at the International Surf Rescue Challenge being held in Maroochydore, Australia in September of this year. Because of this, we are in the process of raising money to cover travel expenses for both Australia and the Netherlands. If you'd like more information on how you can be a part of helping our teams get to these competitions, please check out our donation page by clicking the button below.